City utilizes citizen input to construct budget

Originally Published: May 14, 2019 7:27 p.m.
KINGMAN – City staff believes they've put together a balanced budget for Fiscal Year 2019-2020 that will serve the wishes of the residents and Council in increasing community livability, economic development and infrastructure.
The City utilized a citizen survey to find out what projects are or would be prioritized by the community in the coming years. Unsurprisingly, pavement preservation was a first priority, with 89% of those surveyed saying it is essential or very important.
"In the citizen survey we asked them to provide what they thought were essential things that we needed to be working on, and of course, pavement preservation was at the top of that list," said City Manager Ron Foggin in last week's budget meeting.
Sixty-eight percent would like to see Stockton Hill Road widened from Detroit Avenue to Airway Avenue, and 60% are interested in improvements to Eastern Street. Fifty-four percent of respondents want a new fire station in the east bench area and investments into the City's two proposed traffic interchanges.
"Fifty-four percent rated the downtown as something that we needed to be considering putting money toward," Foggin noted.
New parks that include soccer fields, dog parks and splash pads came in at 50%, a multipurpose community center at 44 percent and new lighting at the Centennial Park ballfield at 27%.
The city has a total of about $164 million proposed for capital improvement projects in the next five years. Nearly $48 million is proposed to fall on FY 2019-2020. Over $17 million is proposed for wastewater projects, around $9 million for water projects, more than $16 million for general government, close to $3.5 million for the airport and more than $1 million for stormwater improvements.
"We're spreading the capital projects across a number of areas, and they're all, I would say, very important," Foggin said, noting that the general government category includes transportation. That category also includes streets projects.
So what are some of the larger projects the City is eyeing for the coming year? For parks and recreation projects, one big ticket item is replacement of ball field lighting at Centennial Park in an amount of $146,000 in addition to $150,000 for playgrounds. About $600,000 is proposed for an above-ground fuel station, $1.4 million for a remodel and training tower at Fire Station 2 and some $155,000 for the replacement of a Kingman Area Regional Transit bus.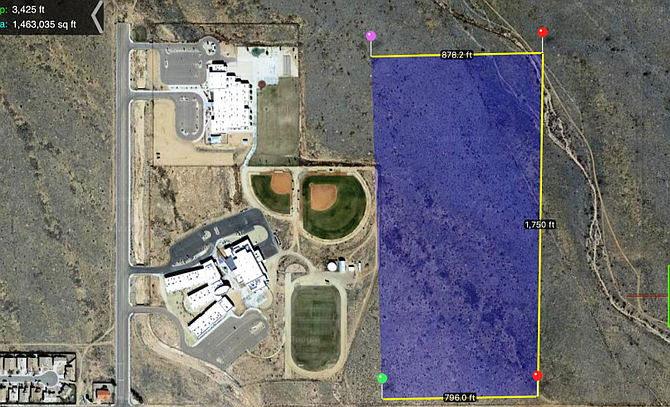 A Sunbelt Development Sports Park, which according to a City agenda would be located behind White Cliffs Middle School, comprised of four ballfields and a soccer complex is also on the list for just under $400,000. Sunbelt's Bill Lenhart previously told The Daily Miner that Sunbelt would dedicate 20 acres for a soccer field, four acres for a police and fire station and 1.25 miles of right way for Rancho Santa Fe Parkway and Airway Avenue.
"That, you'll recall, is part of the money the City's been holding as far as development investment fees that have to be spent by the end of this year," Foggin explained of the sports park. "We are proposing to spend those at the property that was donated by Sunbelt development."
Foggin said the City is unsure about how much can be accomplished with $400,000, but that the park's elements will be evaluated upon completion of the design. That process is currently underway. Staff will also look to utilize contractors performing work pro bono or at-cost.
"At 63%, recreation and cultural opportunities are things that our citizens really have an eye toward," Foggin said. "This, of course, goes to the overall livability of our community, the arts, and the ability to enjoy culture in our community is very important to our citizens," Foggin said.
Then comes streets, which comprise nearly $12.5 million of the proposed budget in FY 2020 alone. Those projects include work on the I-11 East Kingman Connection Project, ADA improvements, downtown streetscapes, improvements to Eastern Street and more.

More like this story
SUBMIT FEEDBACK
Click Below to: