The sweet sound of Black Lemon comes to fruition
By
Agata Popeda
|
AgaPopeda
Originally Published: May 14, 2019 7:29 p.m.
KINGMAN – It was summer 2010.
Guitarist Roberto Diaz, now 29, just won Northern Arizona's Got Talent and was playing in town. He lived in Flagstaff, but his family had been in Kingman since the '80s.
Singer Destiny Diaz, 26, went to high school here, after her father, a military man, retired in Kingman. She started to take vocal lessons from Roberto's uncle. And that's how they met.
The band Black Lemon has evolved since then, slowly transforming from a guitar and vocals only, mostly covers, toward full sound, absorbing two new band members along the way. By then, Destiny and Roberto got married and moved to Flagstaff, where they live today.
"We had people who wanted to book us, but wanted the full sound," Roberto told The Daily Miner after Black Lemon performed at the 2019 Kingman Festival of the Arts last weekend.
"They kept telling us we need a drummer. And I was like, well, my father lives in Flag. And he plays drums."
Ramon Diaz, 56, thought he was done with music when his son, Roberto, approached him and asked if Ramon heard about a cajón, a box-shaped percussion instrument originally from Peru. Ramon did not.
But he comes from a family where everybody plays an instrument.
All his life he played saxophone and drums, but no, never had a chance to "smack on a speaker," and what is up with the gloves anyway.
But the sound, originally designed for beach gatherings, turned out to be magical and now, suddenly, cajón is trendy among musicians in Flagstaff.
Ramon has busted four of them already but keeps playing.
The fourth band member is Karly Gilbert, 24, who joined in 2015, after seeing Black Lemon at an open mic event. Gilbert comes from Winslow.
She got her first drum set from her dad when she was 8. When her grandfather went to work, her grandmother used to pull out his guitar and teach her.
"But it's my mother who is my biggest fan," she said. "She always makes me play for people."
It was Gilbert's mother who encouraged her to start playing with Black Lemon when they called to check if she would be interested in playing bass.
Not that she ever played bass before.
She bumped onto the Diaz family when they performed in Flagstaff.
"I remember hearing them," she said. "My head snapped. The sound was so clean. I could hear myself playing with them. I started singing along with them."
Gilbert was hooked and knew right away that she wanted "a piece of this."
"I invited them to come over and jam," she said. "I'm a really good cook, so I knew I could win them over. I cooked steak, shrimp and garlic white cheddar mashed potatoes. And ever since then …"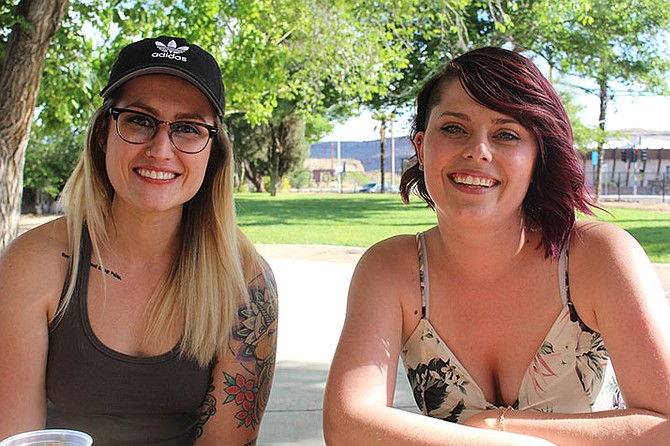 They all laugh. Just like they laugh when people ask them what genre they play. Roberto is happy with Black Lemon having a fluid identity and appealing to wide audience.
Both he and Destiny know Kingman Festival of the Arts well, and are impressed how it has developed, expanding more and more. They have many great experiences related to Kingman. They got engaged here, in their first apartment together on Harrison Street.
Ramon has many good Kingman memories, too, big family gatherings at his parents' place, campers, motorhomes, so many friends and family.
"My favorite Kingman experience is today," Karly said. "Things are actually coming to place. Things are happening. Today is my favorite day."
And the name? What is the story behind "Black Lemon?"
"We were looking for a name," Destiny said. "We tried everything, including an online name generator for bands. We had this 20-hour-long drive ahead of us and my 4-year-old niece was in the backseat, listening to us throwing names. And she said: 'Look, auntie, I drew a lemon. It's a black lemon. You can name your band that.'"

More like this story
SUBMIT FEEDBACK
Click Below to: