Prep Volleyball: Lady Vols set to face Seton in first-ever state tournament appearance

Originally Published: November 2, 2019 1:04 p.m.
KINGMAN – For the first time in program history, the Lee Williams High School volleyball team is headed to the 4A State Tournament. The No. 10 ranked Lady Vols clinched their spot in the postseason Thursday night by defeating No. 23 ranked Desert Edge 3-0 (25-16, 25-19, 25-19).
"It's crazy," said Lee Williams senior Lorelei Fernandez. "I've been waiting four years. We've had the potential every year, it's just this year we finally found the passion and the drive within ourselves to do this. We've had the talent all four years, but this year we really put it to use. It feels really good for all of us."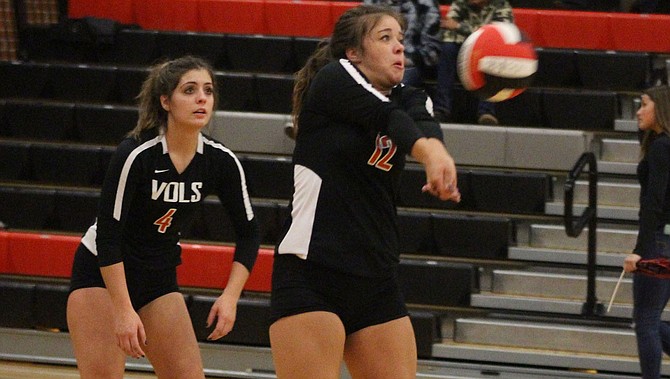 Fernandez, Natalie Sanchez and Kalyse Whitehead made sure their final home match was one to remember as they helped the Lady Vols dominate from start to finish on Halloween night.
"We all contributed," Fernandez said. "It's a team thing and I think it comes down to if all of us are performing, we do better. We help each other out, we step up and do what we can to win."
Lee Williams will start its journey in the state tournament at 6:30 p.m. Tuesday on the road at No. 7 seed Seton Catholic Prep.
The No. 10 seed Lady Vols have a tough matchup against a Lady Sentinels squad that finished 15-3, 9-1 in the 4A Desert Sky Region, but they took some time to reflect on their victory Thursday night.
"It feels amazing," Lee Williams head coach Riley Blake said. "I'm so proud of the girls. They really wanted this and they did their job well tonight. It really translated out on the court. They all wanted it and they were able to put it away."
Lee Williams showed right away Thursday that it came to play, jumping out to a 13-8 lead to force a Desert Edge timeout. The break from the action didn't help the Lady Scorpions, as the deficit increased to 20-11 and the Lady Vols cruised from there to take a 1-0 lead.
Set 2 was more of the same as Lee Williams pulled away late to take a commanding 2-0 advantage in the match. The Lady Vols appeared on their way to an easy sweep after taking a 15-6 lead in Set 3, but Desert Edge put up a late fight before Lee Williams finished off its opponent for a spot in the state tournament.
"Now we really have to work hard, but we've been working this whole season as hard as we can," Fernandez said. "We've practiced every day constantly, so it feels good that the work is finally paying off."
Only time will tell how the Lady Vols fare in the postseason Tuesday night, but one thing is for sure – this squad will be forever etched in the record books.
"This team has really set the bar high," Blake said. "They want to set it even higher. I'm proud of them and it truly comes down to if they want to do it, they can do it. I have all the confidence in them."
More like this story
SUBMIT FEEDBACK
Click Below to: