Prep Football: Tigers can't get past Parker in home opener
Originally Published: September 7, 2019 7:10 p.m.
KINGMAN – A solid rushing attack is never easy to stop, but that job gets
even more difficult when more than one running back finds success.
The Kingman Academy High School football team ran into that issue Friday night as they couldn't stop Parker's ground game in a 32-8 loss at Southside Park.
"Parker is a great ball-control team – they do that extremely well," said Tigers head coach John Morgando. "We'd stop them for a loss a couple of times and then they'd get eight yards on a sweep or an iso. Then they'd go for it on fourth down and get it. That's hard to beat. I think they started the first quarter with a six-minute plus drive."
The Broncs did chew up a lot of clock on their opening drive, but it didn't help matters that Academy couldn't get its offense rolling. The Tigers struggles kept them off the scoreboard in the first half, while Parker punched it in twice for a 16-0 lead.
Emanuel Alaniz and Uriah Martinez each scored on five-yard scampers for the Broncs and the duo was hard to stop – combining to carry the ball 30 times for 215 yards. Martinez also tacked on another score in the fourth to seal the win for Parker.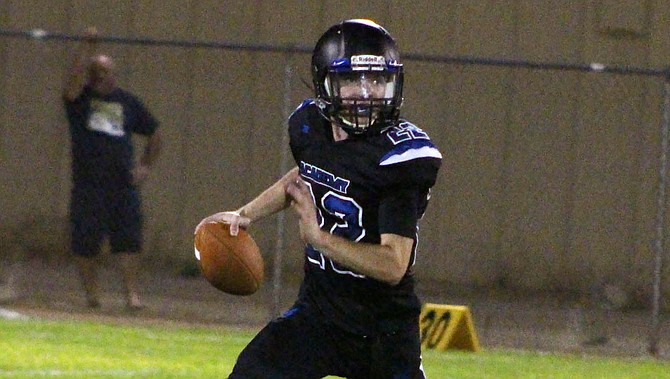 "They have some depth so they can keep guys fresh and just do what they do regardless of who's in," Morgando said. "They can run the buck sweep and the iso and get positive yardage. Credit to them and their depth and their ability to build something like that."
But while the opening half was one to forget, the Tigers played an inspired second half where Isaac Carter started to find his groove on the ground.
Academy quarterback Charlie Anderson was also instrumental through the air and on the ground. The junior tallied the Tigers' lone touchdown of the night on a one-yard keeper and then hit Hayven Potter on the two-point conversion.
The score cut Parker's lead in half, 16-8, but Academy had a letdown on the following play as Parker's Christian Lopez returned the kickoff for six points and a successful two-point conversion extended the advantage back to 16 points.
"We had to sub three guys because of cramps, so our normal kickoff team was gone," Morgando said. "That's a big deal. We had different guys in, usually a little slower guys because they are younger. That's difficult. But it's just finding ways to keep people on the field as much as possible. Rotate and keep people fresher."
Cramps were the story of the second half as Anderson had to leave the game due to them.
Backup quarterback Gabe Imus had the same issue, before giving way to Dallas Edwards who got sick and had to leave the game, too.
"When you start a lot of guys both ways and it's hot, that's an issue," Morgando said. "It was an issue at St. Johns even. And it's a little cooler there. It's just a matter of keeping guys feeling good. It's cramps and it's this and that. We just have to figure out ways to overcome and maybe get more people on the field and get better rotations."
It won't get any easier for the Tigers (0-2) as they host Lee Williams (2-1) at 7 p.m. Friday at Southside Park.
SUBMIT FEEDBACK
Click Below to:
More like this story