Mohave 911 | July 5, 2020
Originally Published: July 4, 2020 4:50 p.m.
The Mohave County Sheriff's Office and the Arizona Registrar of Contractors office reported the following arrests the week ending Saturday, July 4. No reports were received from the Kingman Police Department.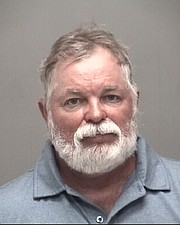 Unlicensed Contractor
LAKE HAVASU CITY – A Lake Havasu City man wanted on felony identity theft charges was arrested Tuesday.
A warrant for 61-year-old Kevin P. Woodbury was filed in March, following an investigation by the Arizona Registrar of Contractors that allegedly showed he submitted suspicious permit applications. The agency allegedly found that Woodbury was operating as an unlicensed contractor, and had forged a homeowner's signature on an application while allegedly using another company's license number, insurance information and a local newspaper advertisement.
Lake Havasu City Police officers arrested Woodbury at a business on the 1800 block of Kiowa Avenue. He has been charged with one felony count of identity theft, and misdemeanor counts of contracting without a license and advertising without a license.
The investigation into Woodbury's alleged activities began in September 2019, when a Havasu building inspector posted a "stop work" order on an unpermitted backyard pergola project. When the Registrar of Contractors' investigation concluded, charges were submitted to the Mohave County Attorney's office for review.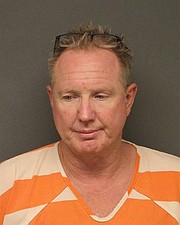 Weapon/unlawful flight
FORT MOHAVE – Keith Robert Beem, 47, of Mohave Valley, was arrested by the Mohave County Sheriff's Office on Sunday, June 28 after he allegedly broke into a residence and assaulted the occupant.
At approximately 7:15 a.m., deputies responded to a residence in the 1900 block of La Riata Road in Fort Mohave for a reported disturbance. Deputies met with the victim, who advised Beem had broken into the residence and assaulted her before fleeing in a white Nissan Sentra.
The victim also said that on a previous day, Beem had slashed her tires, brandished a firearm and made threats toward her.
Deputies reportedly observed Beem's vehicle traveling southbound on King Street and confirmed the license plate of the vehicle. A traffic stop was attempted, however, the vehicle reportedly continued without stopping.
According to law enforcement, Beem made several hand motions inside the vehicle and out of the driver's side window indicating for the deputy to go around him. The vehicle came to a stop at a residence in the 1600 block of Vista Drive.
A "high-risk" traffic stop was conducted, as deputies were advised that Beem frequently carries a firearm. He complied with verbal orders and was detained.
A search of the vehicle reportedly revealed a 9mm handgun in the center console, and a records check revealed Beem to be a prohibited weapons possessor. Deputies also report locating several composition style notebooks containing vulgar and threatening statements directed toward the victim.
Beem was arrested on suspicion of felony first-degree criminal trespassing, criminal damage, possession of a weapon by a prohibited person and unlawful flight from law enforcement. He was booked into the Mohave County Adult Detention Facility. Additional charges may be filed.
Burglary/Theft
FORT MOHAVE – Michael David Neal, 39, of Fort Mohave, was arrested by the Mohave County Sheriff's Office after reportedly admitting involvement in a theft and use of a stolen credit card.
Deputies responded to the 4800 block of Castilla Drive in reference to an auto burglary on June 8. The he victim advised that two Coach coin purses, a credit card and an auxiliary cord had been removed from her glove box.
The victim said she canceled her credit card but there had already been a charge to it. Two more declined charges were recorded as well, all at a gas station in the 4400 block of Highway 95.
Deputies responded to the business and observed video surveillance of a male subject using the credit card at the business on the night of the auto burglary. A second deputy reportedly recognized the male subject as Neal, who according to law enforcement, had other pending charges for similar crimes.
A search warrant was executed at Neal's residence in the 4500 block of Calle El Dorado in reference to stolen property from the auto burglary. Neal was detained and reportedly admitted his involvement in the theft and fraudulent use of the stolen credit card.
MCSO wrote in a news release that detectives were able to locate evidence connecting Neal to three other burglary/theft incidents in the Fort Mohave area.
Neal was arrested on suspicion of third-degree burglary, theft/control of stolen property, theft/control of a stolen credit card, fraudulent schemes and drug paraphernalia possession, all felonies. He was booked into the Mohave County Adult Detention Facility. The investigation continues.
SUBMIT FEEDBACK
Click Below to: