Kingman-area athletes hope to play again, but it doesn't look good after AIA pushes hiatus to April 10

Originally Published: March 21, 2020 4:18 p.m.
KINGMAN – Morgan Stephens and the rest of the Kingman High School softball seniors never imagined a situation where they might not get to finish their final season.
The six Lady Bulldogs have waited a long time for this year, but the coronavirus pandemic has affected those plans after the Arizona Interscholastic Association extended its suspension of spring sports until April 10.
"It's tough because we've been counting on this season since we started as little seventh graders," Stephens said. "We never expected something like this to come up so suddenly to postpone something we've been waiting on our whole career. This was just our last chance to leave it all on the field."
Another issue with the cancellation of games is athletes not having as many chances to prove they can compete at the next level.
"It's kind of rough for all of the seniors because this is our last year to be able to show colleges that we're interested and want to keep playing," said Kingman High senior Jordyn Dan. "So cutting our time (on the field) is really putting us in a bad situation."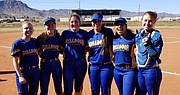 The Lady Bulldogs aren't alone in COVID-19's negative impact as the Kingman Academy High School baseball team has nine seniors who might miss their final hurrah on the diamond.
Kaden Bean is one of those athletes and he's upset about the potential of not competing in another high school game.
"It's our last year of playing, so it's a really big bummer," Bean said. "We still go to the field – hit balls, throw and stuff. We're just waiting to get back to playing."
The waiting game has Lee Williams senior Junior Paulson trying to think of ways to keep playing the sport he loves. He wants to be out on the field with the rest of the Vols and misses the "brotherhood part" more than anything.
"I was actually thinking about making a group chat with the team and asking them if they would like to (play baseball)," Paulson said. "And maybe ask all the other teams in the city, too, because I know a couple guys from the Academy that would be down to play. It would probably happen here soon."
Only time will tell if that does happen, but Academy's Jake Scott has an advantage compared to other area athletes – he can still work on his craft.
The senior golfer spends a lot of time at Cerbat Cliffs Golf Course, but the hiatus is still bothering him.
"My thoughts (entering this season were) this is the year I'm going to get noticed by colleges and this is the year I have a chance to place top 10 or top five at state," Scott said. "I've been playing really well, too. The last match we had, I did really well. I could have done a lot better, but I still scored really well. So when I first heard they were thinking of suspending or even canceling the season, I was really, really mad, but 'safety first,' and there's really nothing I can do about it. It's out of my control. Just kind of have to deal with the situation."
Scott isn't taking chances though. He's practicing safe hygiene as the Centers for Disease Control says that's the best way to avoid getting coronavirus.
"Use lots of hand sanitizer, wash your hands and don't touch your face," Scott said. "Wash your hands after touching doorknobs or anything else. … It's important to try and stay healthy and do your best to avoid any sicknesses."
Stephens is following the same guidelines and admits she has callouses from how dry her hands are due to sanitizer.
However, the threat of COVID-19 isn't keeping her from practicing on her own.
"Me and my dad go play catch a little bit and that's pretty much it," Stephens said. "There's not much we can do. No fields and no batting cages."
Her teammate Dan also knows these are difficult times and is focused on staying active.
"I still do workouts daily," she said. "I haven't really taken a break, (but) it's kind of hard without coaches teaching fundamentals and working towards something. Instead of just working."
And that fact has Dan and Stephens wishing they could return to the field for actual competition.
But if they don't, there is one person they want to thank for all he's done.
"We owe everything to coach (Craig) Lee if we don't get to play," Stephens said. "He's given me more than just knowledge of the game, and constant encouragement, he's given me so many life lessons, and confidence in myself. We owe so much to him."
Sign up for our e-News Alerts
SUBMIT FEEDBACK
Click Below to: