63rd Wedding Anniversary
Originally Published: November 24, 2020 11:18 a.m.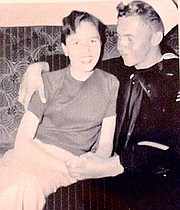 Linda Dodson Vinney and John Vinney of Kingman celebrated their 63rd wedding anniversary on Nov. 18. The couple married in 1957 in California. They have seven children – Julianne Cartwright, Mimi Vinney, Lisa Vinney, Johnny Vinney, Jimmy Vinney, Joey Vinney and Mike Kenefick – and many grandchildren.
Sign up for our e-News Alerts
SUBMIT FEEDBACK
Click Below to: