DIG it Kingman Community Gardens kicks off monthly children's programming

Originally Published: February 13, 2021 5:48 p.m.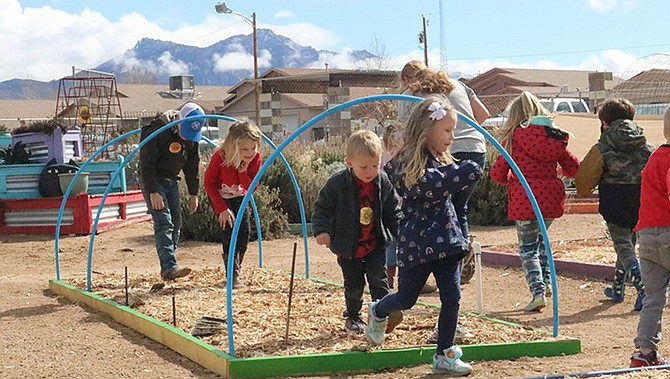 An educational story, crafts, a dragon hunt and a chance to get their hands dirty awaited kids of Kingman on Friday, Feb. 12 at DIG it Kingman Community Gardens' now-monthly Children's Event.
Andrea Penn, the organizer behind the event, said she rented out garden space at DIG it last summer because she wanted something to do during the pandemic. She spoke with some other moms and they knew that their children, and likely other kids, still wanted to play outside.

"And so I started bringing everyone here and I started showing them how to garden with kids, and from there, I had other ideas," she said, which included doing crafts once a week at the gardens. "The garden people noticed what I was doing and they were like 'we have an idea for you.'"
And so now the educational activities Penn was spearheading, as well as the crafts, have been turned into a once-a-month children's event at the gardens.
"We will be planting the children's garden, we have redone the (clubhouse) already, and then we're doing crafts and story time, and just going big," she said.
Officer Zach Heiberger of the Kingman Police Department was in charge of story time on Friday, as he read aloud a book aimed at teaching kids about consequences. "Teach Your Dragon Consequences" by Steve Herman touched on the importance of kindness, patience, responsibility and potential consequences of actions that may not at first seem like a big deal.
Penn and the kids followed up story time by having a brief chat about what was discussed in the book, honing in on the message of there being consequences to actions. The kids then threw out their guesses as to what police officers do, prior to Heiberger telling the group of approximately 10 that it's his job to educate the community about the law, and again, consequences.
The kids, having learned the importance of teaching their dragons about consequences, then set off on a little adventure through the gardens. The "dragon hunt" saw Penn lead the children through a number of simulated activities such as climbing, rowing and bridge building.
The children were then assigned chores, though they were chores that allowed the kids to get their hands dirty by composting and mixing dirt in preparation for the planting season. That was followed by crafts, which included bird seed pine cones and sponge hearts for Valentine's Day.
Penn already has a plan envisioned for next month's event – Birds in the Garden – on Friday, March 12.
For more information visit https://www.digitkingmancommunitygardens.org/.
SUBMIT FEEDBACK
Click Below to:
More like this story