'Dreams, Visions & Reflections' Art Show opens at the ArtHub in Kingman
Originally Published: January 9, 2021 4:55 p.m.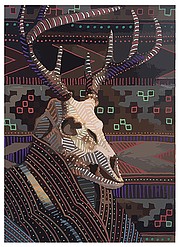 KINGMAN – The KCA Art Gallery's first show of the 2021 season opened on Jan. 7 and will run through Saturday, Feb. 13 at the downtown ArtHub location at 402 E. Beale St. in Kingman.

"With over 50 new art pieces on display, our local artist community has managed to persevere and even grow despite the limitations that the pandemic has placed upon them," KCA Art Gallery Director John Van Vliet said in a news release.
"It's a testament to the creative energy of the local artists and it's amazing to see so such determination channeled into making art," Van Vliet continued.
The art gallery will be open Tuesdays through Saturdays from 11 a.m. to 6 p.m.
Gallery sitters will be wearing masks for the consideration and safety of all visitors, and masks will be available upon request.
In addition to the art displayed, the ArtHub gift shop will be open with locally created art, cards and crafts, the news release noted.
The public can also view and purchase art from the "Dreams, Visions & Reflections" show online at the KCA Virtual Art Gallery starting Jan. 10 at https://kingmanarts.org/.
Kingman Center for the Arts is a nonprofit organization committed to establishing and enriching the culture and community of Kingman through art-related education, performances and venues.
After the current art gallery show closes on Feb. 13, the ArtHub space will be transformed into an art education center offering painting, theater and dance classes for the community that run from Feb. 16 through March 27.
Information provided by KCA Art Gallery
SUBMIT FEEDBACK
Click Below to: