Monsoon rains storm Kingman area

Originally Published: July 27, 2021 6:40 p.m.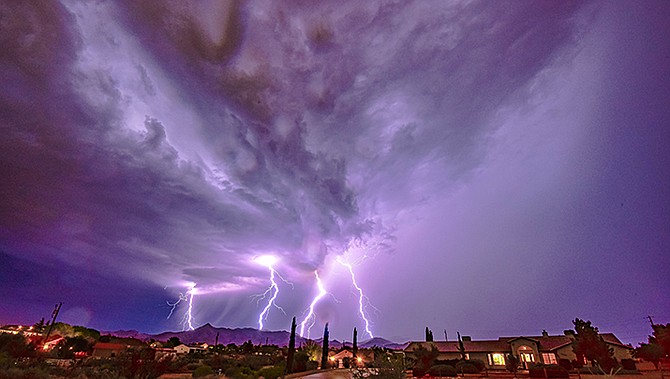 KINGMAN – Mohave County Sheriff's Office Search and Rescue responded to a number of calls for help related to "swift waters" throughout Golden Valley as storms hit the area the evening of Sunday, July 25.
Search and Rescue wrote on its Facebook page that the calls included a vehicle almost under water with the motorist still inside, and another which saw a vehicle enter a wash and travel a half-mile down the wash before becoming stranded in rushing water.
Another motorists became stuck in the mud and debris caused by flooding, while a family of four were out walking and became surrounded by rushing water on a small piece of land.
"All of these calls for help expressed fear and panic for their lives," Search and Rescue wrote.
"The Mohave County Sheriff's Office Search and Rescue is requesting everyone to tell their families, friends and neighbors (many whom are new to the area) how dangerous these waters can become," the agency continued. "Fortunately, last night the damages from the swift waters were property based."
The post also noted that county roadways can become drainages within a short period of time during the monsoon season.
Search and Rescue thanked the Golden Valley Fire District, Arizona Department of Public Safety Kingman Air Rescue Ranger Helicopter, and Patrol and Posse, for helping those in need, as well as the National Weather Service in Las Vegas.
"Please stay out of the running washes and roadways – turn around, don't drown," the agency wrote.
According to NWS, the Kingman area received 1.37 inches of rain within the past 96 hours, with recordings taken at Kingman Municipal Airport.
SUBMIT FEEDBACK
Click Below to: