State Champs: Logan Rosenbach and Kohen Juelfs of Lee Williams win Division II state doubles championship
Originally Published: May 4, 2021 3:58 p.m.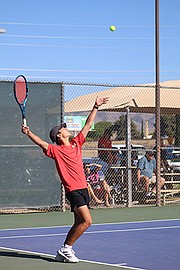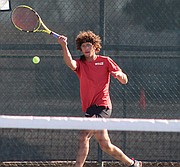 GLENDALE – They're the undefeated champions, and they made it look easy.
Just like they rolled through the regular season, Logan Rosenbach and Kohen Juelfs made quick work of the competition at the Arizona Division II state doubles tennis championships.
The pair went 5-0 while cruising to the tournament title, beating Zach Daniels and Jackson Fisher of McClintock High School 6-2, 6-4 in the finals on Monday, May 3 at the Paseo Racquet Center in Glendale.
Rosenbach is a senior, and Juelfs a sophomore. They form a formidable duo, with a combined regular season and tournament record of 15-0.
The tournament got underway on Friday, April 30, and the Lee Williams standouts quickly dispatched their opponents from Canyon View High School 6-0, 6-2. That evening, they eliminated Kameron Metzger and Kaden Boyter of Sahuarita High School 6-1, 6-1 to reach the quarterfinals on Saturday, May 1.
On Saturday morning, the pair parlayed a 6-1, 6-0 win over Caden Mace and Corbin Smith of Case Grande into a berth in the semifinals opposite Rhys Williams and Shane Heard of Arcadia, who were seeded third.
It was the toughest match of the tournament for Rosenbach and Juelfs, who lost the first set 4-6, before rallying to win the final two sets 6-2, 6-4 and reach Monday's finals.
Daniels and Fischer, who had knocked off top-seeded Emilio Heredia and Gustavo Acosta Jr. in the quarterfinals, were seeded eighth.
Rosenbach and Juelfs were near perfect in the regular season, going 10-0 while winning four of their matches 8-0, and four more matches 8-1.

They were also the top singles players for the Volunteers, who finished the season 7-3 as a team. Rosenbach was 9-1 at No. 1 singles, while Juelfs was undefeated at 10-0 at No. 2 singles.
Girls Tennis
SCOTTSDALE – The Lee Williams High School's youthful girls tennis team gained some valuable experience in the recent Girls Division II Arizona state tennis team playoffs.
The Lady Volunteers, who fielded a varsity team with a single senior in Lia Lucero, made the long trip to Scottsdale and lost 5-0 at Notre Dame Preparatory Academy. Notre Dame is the 5th-ranked team in Division II in the state, while Lee Williams entered the tournament ranked 12th.
Lee Williams finished the season with a 11-2 record. The Lady Vols only regular season loss came against Lake Havasu, which was slated to play Notre Dame in the quarterfinals on Wednesday.
SUBMIT FEEDBACK
Click Below to:
More like this story