Kingman Fire Department reflects on 100 years
Originally Published: September 18, 2021 5:10 p.m.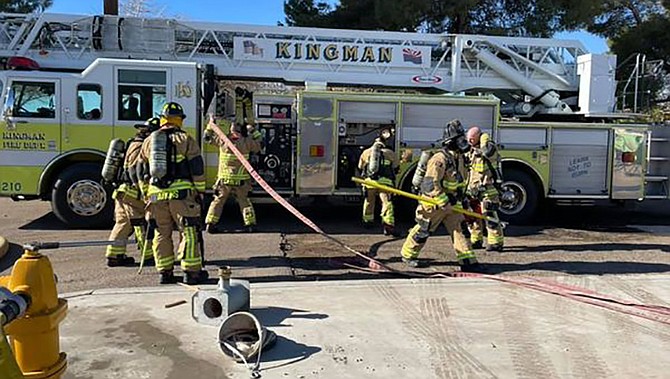 Kingman Fire Department's 100th anniversary Celebration
When: Wednesday, Sept. 22, 5-9 p.m.
Where: Station 22, 1605 Harrison St.
What: An opportunity to talk to firefighters and learn about services KFD provides
The Kingman Fire Department is celebrating 100 years of service. After getting its start in 1921, the department has made the safety of Kingman residents and Kingman firefighters a top priority.
Fire chief Jake Rhoades said throughout his seven years with KFD, he is proud to see how the culture of the fire department puts safety first and has created a progressive culture around safety and community services.
"The Kingman Fire Department has always been looked up to as leaders in the fire service in Mohave County, as well as the state of Arizona," Rhoades said.
Rhoades said one of the biggest milestones the department has seen was the transition from a department of volunteers to a career department.
During his time as fire chief, Rhoades said he's proud of how adaptable the department is to change. He is also pleased with the customer service aspect of the department.
"Our firefighters are out looking for every opportunity to train and better themselves and better their department," Rhoades said.
Rhoades said the health and safety of firefighters is a top priority for him. The department has a health and wellness program, which provides physicals and nutrition courses. The department also requires annual physical aptitude tests.
The department is also implementing programs other departments "don't even dream of." For example, the Cancer Awareness Program is important since firefighters are exposed to harmful substances.
Rhoades said they also follow the clean cab concept, which is controversial among some fire departments. The premise of clean cabs is to prevent exposure to harmful substances that could potentially cause cancer. Rhoades said it's a way to protect firefighters' long-term health.
Over the years, KFD has helped communities across the county, risking their lives to save others.
Rhoades said certain events from Kingman's history have shaped the department, such as the death of 11 firefighters in 1973 due to a propane tank explosion.
Rhoades said during his time with KFD, he remembers when the department lost a battalion chief and how the department rallied together.
"That's one of those symbolic events that really showed me what the true culture of this organization is, and how much they really care about each other and the community," Rhoades said.
Rhoades is also happy to see new positivity come out of the department, such as seeing the first Fire Explorer Academy students graduate and seeing KFD firefighters embrace the program since they are "our future."
"We're so focused on each other, and helping and doing," Rhoades said. "It's something special because that extends out into the community."
For the next 100 years, Rhoades said he wants to continue improving the level of service the fire department can provide, including ambulance and hazmat services.
KFD boasts the only hazmat team in all of Mohave County, Rhoades said.

"As our call volume continues to increase, we are going to have to expand our level of service and look at adaptable ways to meet that demand," Rhoades explained.
The department also recently implemented a drone program, which will help with a variety of services to protect the safety of the community and firefighters.
Rhoades also said that managing the Northern Arizona Fire District has helped extend services to communities across the county.
"The Kingman Fire Department has been here for 100 years. It continues to get better and better every day," Rhoades said. "They are a solid foundation in the community that can be counted on in the event of any emergency."
KFD will celebrate a century of service on Wednesday, Sept. 22 from 5-9 p.m. at Station 22 located at 1605 Harrison St.
Rhoades said attendees at the event will have the opportunity to meet with firefighters, ask questions and learn about services, view demonstrations and enjoy refreshments.
SUBMIT FEEDBACK
Click Below to: