A true fish story from south of the border

Originally Published: January 6, 2022 11:58 a.m.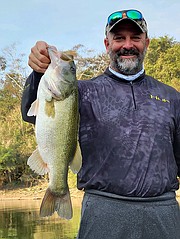 The story today is about a true once-in-a-lifetime fishing trip that I recently participated in in Mexico courtesy of my friend Mike Hulsey.
Several months ago, Hulsey booked us on a three-day bass fishing trip to Lake Picachos, which is located about an hour's drive from Mazatlán in the State of Sinaloa in central Mexico.
Lake Picachos is a 12,000-acre reservoir that was completed in 2009. The Presido River was dammed up and the lake provides downstream irrigation for farms and municipal water for Mazatlán.
The lake was stocked with Florida strain largemouth bass, which have the genetic ability to grow to up to 20 pounds. They are ambush type predators who are well suited to warm, shallow water lakes and reservoirs. The current lake record at Picachos is over 12 pounds., though it is rumored that there are larger bass in the lake. Bass from 2-5 pounds are the norm. The reason for the healthy fishery is due to the tremendous amount of bait fish in the lake. Gizzard shad, threadfin shad and tilapia are all forage for bass in this lake.
The trip that Hulsey had booked for us was for three days, from Dec. 28-30. Now you might think this is the wrong time of year to go bass fishing, but the temperature at Picachos on our trip was a very comfortable 80 degrees.
The water temperature in the lake was from 70-75 degrees, which is perfect for bass fishing.
I should tell you that several years ago Mike and I fished at Lake Picachos. We fished in February and averaged about 100 fish a day. It was on that trip that I caught my personal best bass, a lunker that weighed 8 1/2 pounds. A lot of the bass we caught on that trip weighed from three to four pounds!
This trip, however, was going to be different in the amount and size of the fish we caught.
Jimmy Waits lives in Yuma and he organizes these fishing trips for Ron Speed, Jr. who is one of two businesses that operate guided fishing trips on Picachos.
When I asked Waits how he thought the fishing was going to be, he texted me and told me that Mike and I could expect to catch from 125 to 135 fish a day.
That sounded like a kind of inflated number to me, but as we would find out, Waits was pretty much on point!
Day 1
On our first day of fishing. we were assigned a local Mexican guide to take us out, His name was Alfredo and while he didn't speak much English, the guy knew this lake, and where to find fish.
Alfredo ran the boat, which was a 17-foot aluminum bass boat that was powered by a 60 H.P. Yamaha motor. The boat was equipped with a couple of fish finders, and Minn Kota electric tolling motor. All the boats at the lodge have the same equipment.
When we headed out from the dock at 6 a.m. there was fog all around the lake and on the surrounding mountains.
Our guide suggested we use square bill crankbaits in shad colors, and he was right on! It didn't take long before I put the first bass of the trip in the boat.
Note that all bass are released alive back in the lake. None are kept. It is the ultimate catch-and-release fishing.
In less than two hours of fishing that morning, Mike and I caught 50 bass! At 11 a.m. we had caught exactly 100 bass. When we stopped fishing to go in for lunch at 11:45 a.m. we had caught 121 fish; including a big tilapia that Mike had caught on a crankbait.
After lunch we were back on the lake at 2 p.m. and by the time we stopped fishing at 5:45 p.m. we had caught 185 bass and one tilapia. It was a day of fishing that Mike and I won't soon forget.
One of the highlights of the day was when Alfredo took us to a spot in a channel and stopped at a submerged tree. Mike was throwing a huge crankbait and he caught a bass on each of the two hooks on the lure.
Then later on Hulsey started throwing a 4.75-inch grey swim bait, and he caught 25 bass in 25 casts from that one spot! I was next to him and throwing a chrome Rat-L-Trap and caught 10 bass.
At the end of Day 1 Mike caught 136 fish, while I caught 50. We learned that Mike and I had caught the most fish of any of the other two-man teams that were fishing. One of the other anglers did catch a big bass that weighed 7 1/2 pounds.
It was at that point that we decided our goal for the three days would be to try and catch 500 bass!
Day 2
Day 2 started at 6 a.m. and our guide for the day would Horacio. This guy knew the lake very well, and Mike decided he wanted to try using a top water lure called a Rico. This day I would use nothing but 8-inch watermelon with red flake lizards.
Mike's top water lure produced what would be our best bass of the trip. It was mid-morning when Mike hooked with a lunker that weighed 5 pounds, 1 ounce. I caught a good bass that weighed 4 pounds, 8 ounces on the plastic bait.
By lunch time we had put 100 bass in the boat. But again, all were released unharmed.
At 2 p.m. we were again out on the water. We had three hours and 45 minutes to fish.
By the time we quit fishing we had caught and released 160 bass. Mike still got caught way more bass than me, but I was having a great time.
That night Mike and I discussed how fantastic the trip was going and we figured out that we would need to catch 154 fish to reach our goal of 500 fish.
Day 3
Day 3 promised to be another warm day, with the expected day time temperature to be in the low 80s.
Our guide would be Hignino, who had been guiding on Lake Picachos for eight years.
We told him of our goal and that we needed to catch 154 bass. He looked at us and just smiled.
Then we headed out but disaster struck. As we were going across the lake our boat hit a big wake, and two of the three fishing rods/reels I had, literally "jumped out" of the boat! Mike caught one of them, but my Shimano Stradic Ci4 spinning reel that was attached to a Lew's 7-foot spinning rod, was gone, never to be seen again.
Oh well, as they say, "Stuff happens!"
We started fishing again with Mike using his top water lure and me fishing with the tried and true 8-inch lizard.
Mike had a phenomenal morning, and he caught over 30 bass on the top water lure! But then, a big bass decided it wanted the $20 lure. The big bass engulfed the lure and as Mike was trying to get it the boat, it wrapped the line around a partially submerged tree, jumped, and the line snapped!
Mike was upset as he had borrowed the lure from another angler.
Undeterred, we kept fishing and by lunch we had caught and released 115 bass. We needed just 39 bass in the afternoon to reach our goal.
After lunch I told Mike, "I'll try and catch 10 if you'll catch 30!" As it was, I caught three bass on my first three casts, and had nine in the boat while Hulsey had just three.
Then it all changed. Mike once again showed his bass fishing prowess and he started catching bass one after another.
When we finished fishing as the sun was starting to set in the west, our guide told us that we had boated 187 fish, including one tilapia that I had caught on the lizard.
We ended up with 533 fish caught, exceeding our lofty goal that we had set on Day 1.
It was, without a doubt, the best bass fishing trip Mike and I have ever been on!
Mike and I shared what we both feel will probably never be duplicated again in our fishing careers.
And this is no fish story!
If you want to experience this kind of a fishing trip, let me know and I'll get you in touch with the Waits who can set you up with a trip.
What a way to end 2021.
SUBMIT FEEDBACK
Click Below to: