Lee Williams boys win, girls 2nd at home cross-country meet
Originally Published: September 24, 2022 4:49 p.m.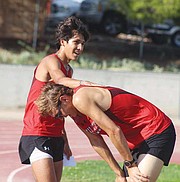 KINGMAN – The Lee Williams boys cross-country team placed four runners in the top 10 to beat Lake Havasu 39-40 on Wednesday at Lee Williams High School.
Volunteers junior Wyatt Pickering turned in the top time of 17:30 to win the boys race, beating runner-up Nathan Mettill of Lake Havasu by 19 seconds.
Senior William Chmiel posted a fourth-place finish for coach Joan Abraham's squad in 18:30, while Tyler Allred placed sixth (19:11) and Cisco Guyan was ninth (20:41).
Jacob Batty was Kingman Academy's top finisher, grabbing third in 18:03.
A pair of Kingman runners – Adan Cervantes (7th, 20:14) and Alex Gossar (10th, 21:03) – also cracked the top 10.
As a team Kingman finished third in the four-team field with 69 points. Kingman Academy was fourth with 86.
In the girls meet on the 3.1 mile course, Lee Williams finished a strong second to Lake Havasu, which won 29-36.
Taliyah Crook placed second in the race for the Lady Vols with a time of 22:15. Katie Bell of Lake Havasu won by more than a minute in 21:12.
Katalina Robinson finished fifth for Lee Williams with a time of 25:07, while Taylor Novak placed sixth in 25:21.
Kingman Academy's top finisher in the girls race was Sara Bredenkamp (9th, 25:45).
Academy placed third in the girls team competition with 76 points.
Sign up for our e-News Alerts
SUBMIT FEEDBACK
Click Below to: