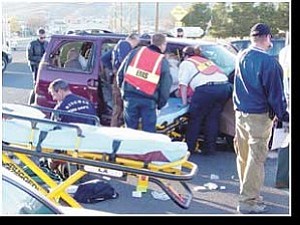 Courtesy Photo
Kingman firefighters and other emergency personnel prepare to remove a woman from the mini-van in which she was riding when it collided Tuesday afternoon with a pickup truck at the intersection of Airway Avenue and Burbank Street. In all, three people were taken to Kingman Regional Medical Center with assorted injuries. One woman was extricated from the mini-van with the ³Jaws of Life,² a news release from the KFD stated.
Stories this photo appears in:
GOLDEN VALLEY ­ A rollover accident Tuesday afternoon killed a Kingman resident and critically injured a Golden Valley resident.
By By Terry Organ
December 15, 2005
This Week's Circulars
To view money-saving ads
For as little as $3.49*