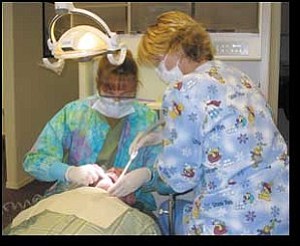 Miner Photo/TERRY ORGAN
Kingman dentist Regina Cobb, left, works to put a crown on a tooth of patient John Lopez, who was scheduled to begin jury duty on the day of the procedure. Dental assistant Crystal Bitz is at right.
Stories this photo appears in:

Govan says physician shortage likely if Kingman's population surge continues
KINGMAN ­ The time necessary to get an appointment as a new patient with a local doctor or dentist normally is two weeks or longer, but there are exceptions.
By By Terry Organ
December 22, 2005