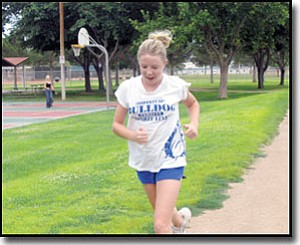 TERRY ORGAN/Miner
Bailey Lawson does laps Friday around Centennial Park. She will be a freshman this fall at Kingman High School and jogs 4-5 times per week at the park to prepare her to try out for the Bulldogs' cross country team.
Stories this photo appears in: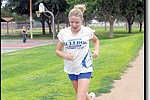 KINGMAN – Lisa Julle was headed for her car with sons Tyler, 9, and Kyle, 7, on Friday when she encountered a reporter in the parking lot at Centennial Park."We come here each morning Monday through Friday," Julle said. "The boys are on the Dolphins' swim team and when they're swimming I can walk the track (for exercise)."The boys also love the many activities available at Centennial Park.
By By Terry Organ
July 10, 2006