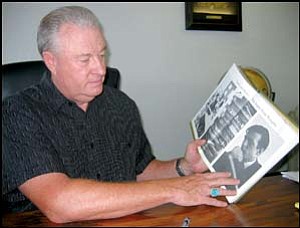 Scott Dunton Sr., shows a high school yearbook photo of Gary Bird, who died when the twin towers of the World Trade Center fell on Sept. 11, 2001. Photo: TERRY ORGAN/Miner
Stories this photo appears in:
Gary Bird appeared to have a bright future when he graduated from Mohave Union High School in 1968. "Gary was a great kid," said Scott Dunton Sr., who graduated with Bird.
By Terry Organ
October 9, 2006
This Week's Circulars
To view money-saving ads
For as little as $3.49*