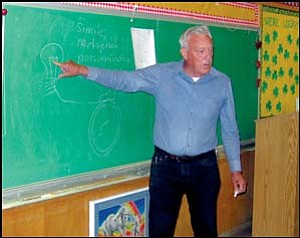 Al Snyder diagrams a generator producing electricity to illuminate a light bulb Tuesday during a drawmathics presentation to Karen Sutherland's fourth-grade class at Manzanita Elementary School. Students were drawing a Maine lighthouse that Snyder played in as a boy. TERRY ORGAN/Miner
Stories this photo appears in: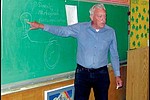 Al Snyder is back in class teaching "drawmathics," a combination of drawing and math he developed at Manzanita Elementary School.
By Terry Organ
March 23, 2007