Fermin Esquibel looks out Thursday morning over the Little League field his father, Frank, helped create. Frank Esquibel passed away July 17 after giving 32 years of his life to the children who played on these fields. JC AMBERLYN/Miner
Stories this photo appears in: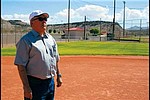 While he was not inducted into the Baseball Hall of Fame and he did not hold any world records, Frank Esquibel was a hero of Kingman's Little League baseball.
By Jennifer Bartlett
September 7, 2007
This Week's Circulars
To view money-saving ads
For as little as $3.49*