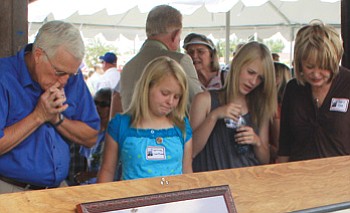 JC AMBERLYN/Miner
Jimmy Cox Jr., whose father was killed in the Doxol Plant explosion 35 years ago, views a photo display of the lost men set up at Firefighters Memorial Park. Also pictured from left are Courtney Cheatheam, Megan Cheatheam and April Cox.
Stories this photo appears in: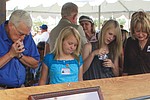 Hundreds gathered to remember their fallen family and friends at the 35th anniversary memorial ceremony of the Doxol explosion. They packed the gymnasium at Kingman Middle School on Saturday sharing memories, updating each other on life's happenings and making sure never to forget the sacrifice of the 11 firefighters who died as a result of the propane railroad tanker explosion on July 5, 1973.
By Aaron Royster
July 7, 2008