SHAWN BYRNE/Miner
Trey Gilleo, a graduating senior at Kingman High, squats 245 pounds Tuesday during a workout. Gilleo will be playing for the Northern Arizona Lumberjacks next season. Returning tailback Jonathan Oakie spots for Gilleo.
Stories this photo appears in: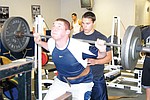 After Kingman High senior Trey Gilleo broke his ankle on Sept. 20 in Phoenix against Maryvale, most of the colleges interested in the now 6-foot-7 inch, 250-pound offensive lineman gave up on him. But not all of them did, and the Northern Arizona Lumberjacks have made plans for KHS' Goliath.
By Shawn Byrne
May 21, 2008
This Week's Circulars
To view money-saving ads
For as little as $3.49*