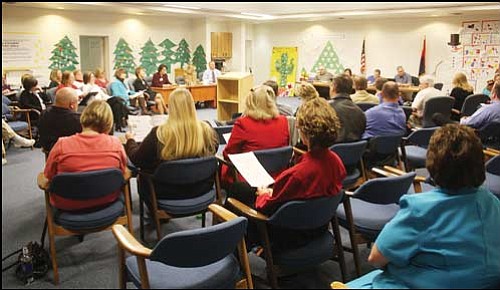 JC AMBERLYN/Miner
The Kingman Unified School District Board was notified Tuesday by the County Treasurer's Office that it may lose money on its investment in Lehman Brothers.
Stories this photo appears in:
The Kingman Unified School District could be facing a shortfall in more than just state funding. The district board was notified Tuesday night of a letter the district office received from the Mohave County Treasurer's Office. The letter states that the Treasurer's Office has segregated the nearly $51 million in Lehman Brothers bonds the county investment pool had into a separate account. Lehman Brothers filed for bankruptcy last year and the case is currently moving through bankruptcy court.
By Suzanne Adams-Ockrassa
January 15, 2009