Buick Field of Dreams -- All existing major Buick concept cars -- starting with the 1938 "Y-Job", often called the industry's first dream car -- were gathered for Buick's 90th anniversary in 1993. This was billed as a once-in-a-lifetime display from public and private collections, as well as from Buick. From left (front row) 1938 Y-Job, 1951 XP-300, 1951 LeSabre, (middle row) 1953 Wildcat I, 1954 Wildcat II, 1956 Centurion, 1963 Silver Arrow I, (back row) 1983 Questor, 1985 Wildcat, 1988 Lucerne, 1989 Park Avenue Essence, 1990 Bolero and 1992 Sceptre. Photo taken June 22, 1993, at Grand Traverse Resort near Traverse City, Mich. Courtesy GM Archives
Stories this photo appears in: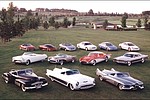 From the perspective of the first decade in the 21st century, it is relatively easy to imagine an America without an American auto industry. General Motors and Chrysler are one step from following Studebaker and Hudson into the history books. Ford is no longer on life support, but it is still in intensive care.
By Jim Hinckley
July 23, 2009
This Week's Circulars
To view money-saving ads
For as little as $3.49*