Enos Andrew Phillips
Stories this photo appears in: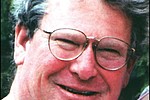 We're here to celebrate the life of Enos Andrew Phillips, known by "Andy" to his friends and "Daddy" or "Grandpa" to his family. He was born and raised in Kingman to Enos and Virginia Phillips. He had two brothers and a sister, and they all went to school together and shared many of the same friends.