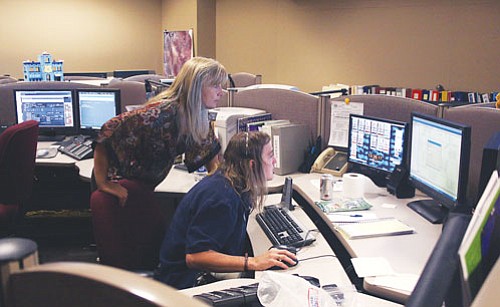 JC AMBERLYN/Miner
Anita Mathers, seated, dispatch training officer at Mohave County Sheriff's Office Dispatch Center, answers a call Wednesday. Dispatch Supervisor Jody Schanaman stands behind her.
Click here to purchase this photo

Stories this photo appears in:
Last month, a 16-year-old teen found his mother dead. His call to 911 was an automatic reflex; he hadn't actually begun to process what was going on until he was on the phone with the 911 dispatcher, who suddenly had to take on the role of counselor.
By Erin Taylor
October 6, 2009
This Week's Circulars
To view money-saving ads
For as little as $3.49*