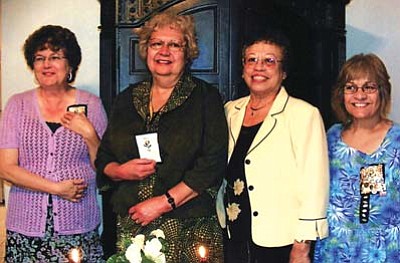 CourtesyXi Beta Phi Chapter of Beta Sigma Phi recently conducted a pledge ritual for Marie Temprano on April 13 at the home of President Pat Mullen. The sisters enjoyed a potluck dinner and dessert before the ritual. Sisters attending were: Mullen, Cassandra Oberlin, Anna Tucker, Barbara Patterson, Temprano, Helen Bolt, Sandy Lyons, Yvette Stratton, Betty Lou Reed and Joyce Onnen. The sisters are preparing for the annual Founder's Day banquet at the Kingman Moose Lodge. The "Woman of the Year" and the "Pledge of the Year" were voted on during this meeting. Pictured from left to right are: Barbara Patterson, Marie Temprano, Helen Bolt and Pat Mullen.
Stories this photo appears in: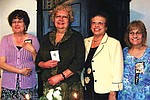 Friday Afternoon Bridge Club: On April 16, the winners were: first place, Fran Kvale and Gladys Smith; second place, Kay Klaus and Jerry Lipson; and third place, J.T. Perkins and Jeanie Clegg.