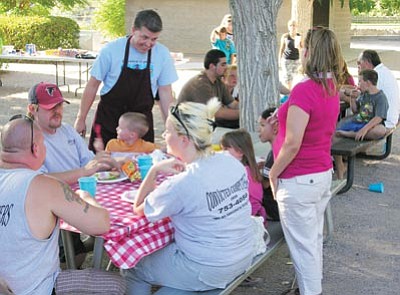 JAMES CHILTON/Miner -- Manzanita Elementary School third-grade teacher Brock Odegard (standing, in apron) mingles with several of his incoming students and their parents at a class barbecue in Metcalfe Park Monday afternoon. The start-of-school barbecue has become a ritual for Odegard's class, complete with hot dogs, lemonade and freshly-made s'mores. Manzanita, as well as the rest of the Kingman Unified School District, goes back to school today.
Stories this photo appears in:
Be careful on your way to work today, and watch out for the big yellow buses. Today's the day that more than 7,000 students in the Kingman Unified School District head back to class.According to KUSD Superintendent Roger Jacks, parents and students can expect few changes in the overall structure of school this year. Enrollment is roughly the same, as are bus routes and starting and ending times, with the sole exception of the district's middle schools. Both White Cliffs and Kingman Middle School will be starting 10 minutes later than they did last year, at 8 a.m.
By James Chilton
August 12, 2010