LEE NOVAK/CourtesyChris Novak, 16, learns the finer points of pushing during summer skeleton training in Park City, Utah, recently.
Stories this photo appears in: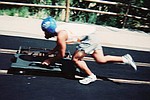 After spending a few days in the mountains of Park City, Utah, 16-year-old Chris Novak learned a valuable lesson about the sport called skeleton. It's where sliders race down a bobsled track head first on a sled a little larger than a keyboard at speeds around 80 mph.
By Shawn Byrne
July 30, 2010
This Week's Circulars
To view money-saving ads
For as little as $3.49*