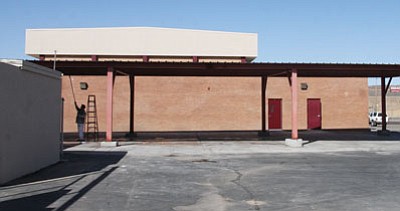 JC AMBERLYN/MinerThe new Ramada at Kingman Middle School will soon have picnic tables placed under it.
Stories this photo appears in:
Kingman Middle School has a new look this year thanks to an extreme makeover. The school has a partial new roof as well as a new exterior, which was restuccoed and painted. Other major projects include the demolition of an old portable building, which is to be replaced by an outdoor ramada to provide students with a shaded rest, and an outdoor lunch area.
By Mary Ann L. Smith
March 28, 2010
This Week's Circulars
To view money-saving ads
For as little as $3.49*