EGAN O'KEEFE/CourtesyChildhood friends William Kay (left) and Robert Olson flank either side of local photographer Rik Simon. Simon snapped a photo of mile marker 40 along Arizona's stretch of Route 66, which Kay and Olson used as inspiration for their cross-country trip along the highway to celebrate their 40th birthdays.
Stories this photo appears in: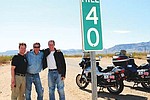 It's not every day one gets the chance to drive through a photograph. But that's just what two childhood friends did this month on a 10-day odyssey that was 40 years in the making.
By James Chilton
October 26, 2010