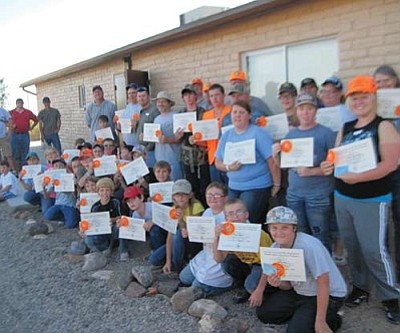 DON MARTIN/For the MinerGraduating class! This is the class photo for graduating class R-2-2011 from the Arizona Hunter Education program. These 34 students ranged in age from 9 to 58 years old and received 32 hours of instruction over a two weekend period from volunteer instructors.
Stories this photo appears in:
The Arizona hunter education program graduated another 34 students Sunday afternoon at the 7 Mile Hill Range.Ages of students ranged from 9 to 58, and they completed over 32 hours of instruction during the two-weekend class. While most of the students were from the Kingman area, one student was from Colorado and another student came from Parker.
By Don Martin
August 10, 2011