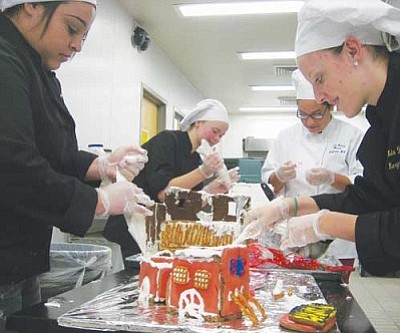 ERIN TAYLOR/MinerPictured from left to right are students Adriana Perez, Kelsey Jones, Carla-Selena Moreno and Emma Bumbullis putting the finishing touches on a gingerbread train and gingerbread houses.
Stories this photo appears in:
Kingman High School culinary students are inviting the public to their second annual "Gingerbread Mania" tonight in the school's cafeteria.Members of the public will be able to view gingerbread houses and other creations crafted by students from the elementary school level and up and try the sauces created by the culinary high school students for an all-you-can-eat pasta dinner. Entrance to the viewing from 6 to 9 p.m. is free, while the pasta bar and salad dinner is $5 for adults, $3 for children and free for kids 5 and under.
By Erin Taylor
December 8, 2011