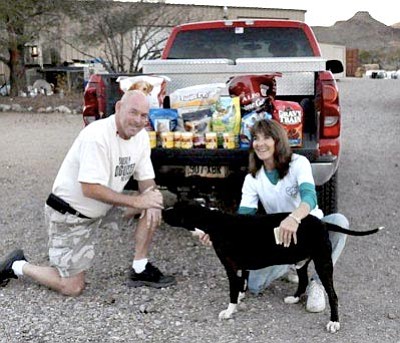 Cherie DaLynn, the owner and founder of the no-kill domestic animal rescue and sanctuary For the Luv of Paws in Golden Valley, nine-year-old Eightball, a lovable American Pit Bull Terrier who is a resident of the facility, and I pose by the cat and dog food Chris Marie and I delivered to the sanctuary. The animal and cash were from visitors to Chris Marie's and my Christmas lights and blowups display donated.
Stories this photo appears in: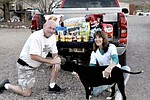 Because of all of the negative news and crime that has been occurring in Mohave County and the state recently, I decided to accept a challenge and tackle a couple of things in a new blog about what I consider something good that is happening in Mohave County.
By Butch Meriwether
December 31, 2011