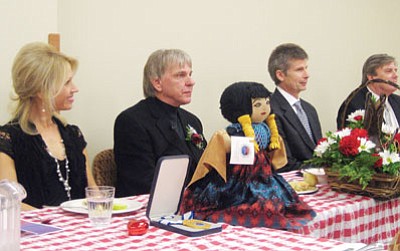 SUZANNE ADAMS/MinerDr. Ken Jackson (center) listens as his co-workers, staff and patients commend him for his work in the community. The doll and medal on the table were presented by the Hualapai Nation. The medal is usually given to members of the Hualapai Nation who have served in the armed forces.
Stories this photo appears in: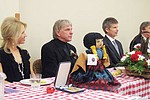 After more than 30 years of service in rural Arizona counties, Kingman's Cowboy Baby Doctor has earned national recognition. Dr. Kenneth Jackson received the 2010 Country Doctor Award from StaffCare Thursday evening. StaffCare is a company that provides temporary doctors and other healthcare providers to hospitals and other healthcare companies.
By Suzanne Adams-Ockrassa
January 9, 2011
This Week's Circulars
To view money-saving ads
For as little as $3.49*