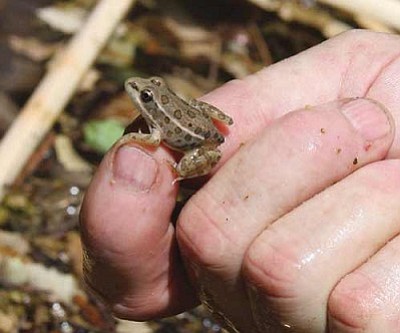 JC AMBERLYN/Miner A biologist releases a rare Relict Leopard Frog Friday. This is a young adult and will grow, eventually reaching a length of up to 3.5 inches long.
Stories this photo appears in: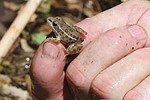 April 29 was "Save the Frogs Day" and several local wildlife biologists and specialists from Arizona and Nevada observed the day quite literally as they worked in the wilds near Kingman to help benefit a rare species of frog.In a cooperative effort between the Arizona Game and Fish Department, Bureau of Land Management, U.S. Fish and Wildlife Service and the University of Nevada-Las Vegas, about a dozen people hiked into the craggy wilderness of the Black Mountains near Highway 68, just west of Golden Valley. On their backs they carried buckets filled with water and a precious cargo: young adults and tadpoles of the Relict Leopard Frog.
By JC Amberlyn
May 8, 2011