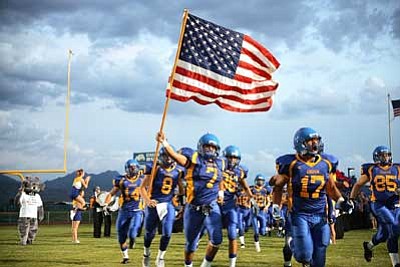 RODNEY HAAS/Miner Alex Lopez holds the American flag as the Kingman High football team takes the field Friday before its game with Flagstaff Coconino. The Bulldogs honored the 10th anniversary of the Sept. 11 terrorist attacks by having a color guard on hand. The student council sold T-shirts commemorating the event.
Stories this photo appears in:
As a sports writer, I get paid to write about games. Win or lose, everyone goes home at the end of the day.
By Rodney Haas
September 11, 2011
This Week's Circulars
To view money-saving ads
For as little as $3.49*