CourtesyThe Kirbys at the Grand Canyon in July. From left: Jack, John, Katelyn and Maria.
Stories this photo appears in: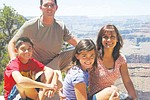 John Kirby knew something was amiss the moment he stepped off a subway platform near Grenwich Street in New York City 10 years ago. He could see hundreds of people on the street looking toward downtown, but the surrounding buildings blocked his vision. He walked toward Grenwich to see what people were looking at, and once he reached the street, he saw that both World Trade Center towers were on fire.
By Ahron Sherman
September 11, 2011