Supervisor Gary Watson
Stories this photo appears in: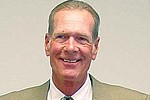 The issue over renting space for the Mohave County Library in Kingman is back on the Board of Supervisors agenda. The item was tabled in November after a group of residents raised questions about the ownership of the 2,000-square-foot office in a building on East Gordon Drive in Kingman. The building is owned by ORB Investments.
By Suzanne Adams-Ockrassa
January 8, 2012
This Week's Circulars
To view money-saving ads
For as little as $3.49*