JC AMBERLYN/Miner
Richard Alvarado was at TNT Fireworks in the Walmart parking lot Saturday buying firecrackers for Delilah and Robert Zapata. TNT Fireworks is run by Kingman residents and will be open from 8 a.m. to 11 p.m. until Wednesday and will be open until midnight.
Stories this photo appears in: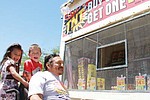 Recent area brush fires, along with the inferno raging in Colorado Springs, Colo., shows how one spark can lead to devastation.That's why area fire departments are reminding residents that a Kingman city ordinance makes it illegal to set fireworks off within the city limits, even though it's legal to buy them.
By Erin Taylor
July 2, 2012