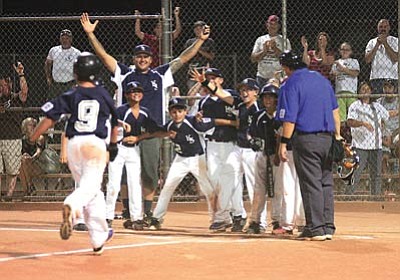 RODNEY HAAS/Miner
A mob of teammates awaits Kingman South's Rilee Araya after he hit a two-run home run in the top of the seventh inning in the District 9 Championship game on June 30. South beat Kingman North 6-3 to advance to the 10-11 state tournament that begins today at Southside Park.
Stories this photo appears in:
It's the little things that can make or break a huge event. A smile, a thank you, or a small discount at a local business to say, "Welcome to Kingman, we're glad you're here." For Kingman North president Leigh Pitts, it's doing the little things that she hopes will ensure a wonderful stay for the 13 Little League teams descending on Kingman this week for the Minors Little League State Tournament at Southside Park.
By Rodney Haas
July 16, 2012