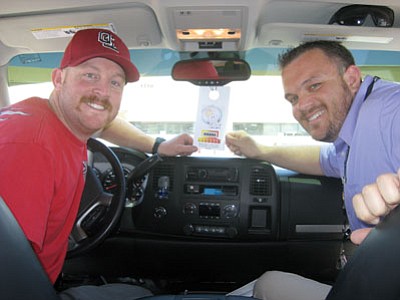 SUZANNE ADAMS-OCKRASSA/MinerKingman firefighter Tanner Miller (left) and Kingman Regional Medical Center Foundation Special Events Coordinator Scott Kern show off the new Clear Your Car hanger Miller created with the help of the local chapter of the International Association of Firefighters and KRMC.
Stories this photo appears in: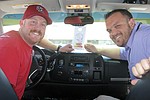 It's a tragedy that happens nearly every year. It happens in parking lots and in driveways across the U.S., in hot weather and cool. According to San Francisco State University's Department of Geosciences, nearly half of its victims are under the age of 3.According to SFSU, it killed 33 children last year and has killed more than 500 since 1998. It has already claimed five lives nationwide since the beginning of this year and Kingman first responders have already received one call this summer.
By Suzanne Adams-Ockrassa
June 20, 2012