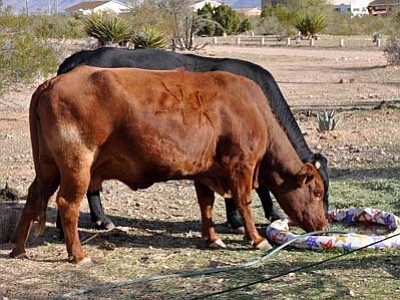 BUTCH MERIWETHER/Courtesy
Two free-range cattle belonging to rancher Travis Julio quench their thirsts by drinking water from a small child's pool in the front yard of a house in Golden Valley. Many residents are upset about stray cows wandering through neighborhoods, knocking down fences and munching on plants.
Stories this photo appears in:

A dust-covered cowboy sitting atop his mighty steed and herding livestock on month-long cattle drives was once the quintessential symbol of the American frontier.
By Butch Meriwether
November 18, 2012