Construction has begun on Frontier Crossing, which developers plan to fill with a variety of large stores and a hotel. The first tenant, 99 Cent Only, will move in as soon as its new store is complete.KIM STEELE/Miner
Stories this photo appears in: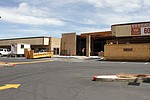 A rundown empty strip mall at the southeast corner of I-40 and Stockton Hill Road is getting a major facelift and a new tenant.National retailer 99 Cent Only has agreed to lease a 17,000 square foot store in Frontier Crossing, which is being jointly redeveloped by Accelerated Development Services and Wadsworth Development. The 82,000 square foot strip mall formerly housed a grocery and call center.
By Kim Steele
April 14, 2013