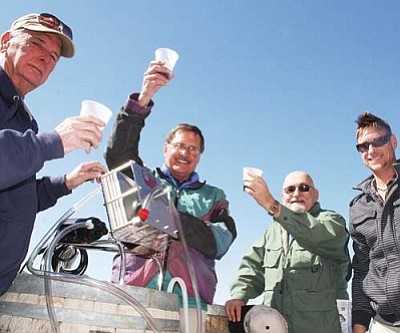 JC AMBERLYN/MinerDon Stetson, Rand Terwilleger, Frank McGovern and Justin Terwilleger raise glasses of wine just filtered out of the barrel.
Stories this photo appears in:
The wine was flowing by the gallon Tuesday at the Stetson Winery.No, the occasion wasn't a party. Owner Don Stetson and Rand Terwilleger were filtering and pouring wine into casks, and for the first time since he opened, Stetson has wine made from grapes grown exclusively in the Kingman area.
By Doug McMurdo
February 13, 2013
This Week's Circulars
To view money-saving ads
For as little as $3.49*