Last year's fireworks at the Mohave County Fairgrounds were entertaining. This year the Kingman Boomers, which raises money for the show, gathered almost $25,000 in donations to put on this year's extravaganza. The show is in the center of town, which makes for great viewing parties for those who don't want to linger in the fairgrounds. That's the thinking over at the Kingman Presbyterian Church, 2425 Detroit Ave., which is hosting a social event starting at 7 p.m. and ending with a fireworks watching party. JC AMBERLYN/Miner

Stories this photo appears in: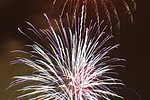 ~ Mud Mayhem & Tuff Truck races will begin at 4 p.m. at the Mohave County Fairgrounds~ The sky will light up with a pyrotechnic extravaganza when the sun sets about 9 p.m.~ Before the fireworks you can enjoy a Family Festival and Fireworks Show.~ A car show and block party will be at the Staples parking lot on Stockton Hill Road~ The municipal pools are offering free swimming.~ A flag raising at VFW Post 10386 happens at 10 a.m.~ A food and fun day takes place at VFW Post 3516 from noon to 5 p.m.See this story for times and more details.
This Week's Circulars
To view money-saving ads
For as little as $3.49*