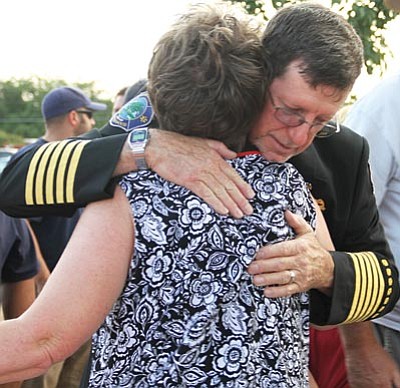 Mike and Debbie Casson hug after the ceremony.JC AMBERLYN/Miner
Stories this photo appears in: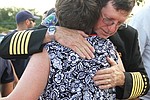 A 40-Year Memorial Service was held at Firefighter Park Friday evening to honor the eleven Kingman Fire Department firefighters who were killed July 5, 1973 during the Doxol Propane railroad tanker disaster in Kingman. The KFD Honor Guard and Pipes and Drums opened the ceremonies and a group of KFD, Bureau of Land Management and Northern Arizona Consolidated Fire District members released 19 balloons in honor of the 19 firefighters who lost their lives June 30, 2013 near Yarnell. City and fire officials spoke to the crowd and then the Fire Bell was rung 11 times to honor the fallen Kingman firefighters.