CourtesyShown are the eight members of the BLM Colorado River District Ground Crew before releasing 19 balloons that symbolized the 19 members if the Granite Mountain Hot Shot Team killed on June 30 fighting the Yarnell Fire near Prescott. The Colorado River District Crew was the first on the ground in the Dean Peak Fire near Kingman.
Stories this photo appears in: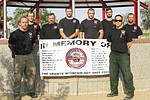 The Kingman Fire Department held a 40th anniversary memorial service on July 5 in Fireman's Park honoring the 11 firefighters who were killed in the Doxol propane tank fire.