A tour bus was swept away by a flash flood that crossed Piece Ferry Road on Sunday. The 33 passengers, tour guide and driver escaped injury. (Courtesy)
Stories this photo appears in: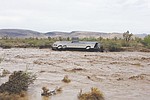 No one was injured when flood waters carried away a tour bus Sunday, but the driver's account of events is being questioned - and the tour bus operator says it shouldn't have taken responders an hour to reach the scene.
By Doug McMurdo
July 29, 2013
This Week's Circulars
To view money-saving ads
For as little as $3.49*