CourtesyA local musician has a song featured in the upcoming Syfi feature film 'Sharknado,' which is about sharks invading the flooded streets of Los Angeles. Believe it or not, it's actually not a documentary.
Stories this photo appears in: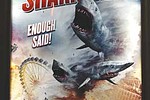 "Sharknado" sounds like the title of a B-movie - which is good, because it is. But for Kingman's own Jammin' Joe Buck, "Sharknado" could be the start of something beautiful.
By Doug McMurdo
June 28, 2013